Address: 15901 Collins Ave
Sunny Isles,FL 33160
Neighborhood: Sunny Isles
Location: BeachFront
Occupancy: Immediately
Year Built: 2007
Bedrooms:2,3
Number of Units: 271
Stories: 45
Price Range:$1,595,000 to $1,595,000
Do You Own a Unit at Trump Tower II?

Detailed Description for Trump Tower II
Click here to see all available condos for sale at the Trump Tower II
No name in real estate today speaks as immediately to the high quality of a project than Donald Trump. The Trump Towers Sunny Isles is no exception. Co-developed by Dezer Development and the Related Group, this three-tower oceanfront condominium exemplifies the Trump hallmarks: an incredible location, stunning views and unmatchable amenities.

Sunny Isles, with its two-and-one-half miles of powdery sand beach, is embraced by the Atlantic Ocean and the inland waterways. Views from the Towers take in Bal Harbour and Aventura as well as Miami. Residents enjoy private access to 250 feet of Atlantic beachfront dotted with the Towers' own cabanas. An elevated terrace with lush tropical plantings features a heated swimming pool and poolside bar.

Enter by way of the porte-cochere on Collins Avenue. Valets await you 24 hours a day. Parking is available on three secured levels. An elegant three-story lobby leads to your private elevator. Round-the-clock concierge service can link you with your destination and help you best enjoy the many offerings of the city. Within the tower, find a state-of-the-art fitness center and a residents' health spa. Desk service includes mail and package receiving.

The design of Trump Towers condo residences echoes the world-class ambience of the location. High ceilings, a Trump hallmark, rise 10 or 11 feet, providing panoramic floor-to-ceiling openings to the ocean and inter-coastal views. Elegant glass and aluminum railings skirt the expansive balconies. Designer fixtures in kitchens and baths complement Italian cabinetry and granite or marble countertops. Kitchens are appointed with Miele and Sub-Zero appliances. Technology has been fully considered as condos are pre-wired for multiple telephone line capability and cable hook-up.

The Sunny Isles location situates you halfway between the downtowns of Miami and Fort Lauderdale, giving you ready access to the recreational, business and cultural amenities of both. Fly into either Miami International or Fort Lauderdale/Hollywood International Airports. Or sail into the Port of Miami or Port Everglades, just minutes away.

Few residences offer the sophistication and amenities of this superbly designed development, and few offer the unmatchable access to one of the most beautiful and vibrant cultural centers in the world. Make your home – or home away from home – at the Trump Towers in Sunny Isles.
You should also check out the Trump Tower I.
24hr Security
250 feet of sugar-sand Atlantic Ocean frontage
Elegant porte-cochere entrance with 24-hour valet services
3-story lobby
Three levels of covered and secure garage parking
Mail and package receiving desk
lushly landscaped oceanfront terrace
heated swimming pool
State-of-the-art fitness center
health spa
Beachfront cabanas
General

Private elevator foyers
Expansive balconies
Floor-to-ceiling windows

Kitchen

Meile and Sub-zero appliances
Italian designed kitchens
granite or marble countertops
Views: Ocean, Intercoastal,City
Pets: allowed
Parking: assigned, valet
Rental Policy: Allowed
Architect: Sieger-Suarez
Developer: Related Group-Dezer-Donald Trump
Trump Tower II - List of All Available Apartments for Sale


2 Bedrooms Condos For Sale
| | | | | | | | | | | | | |
| --- | --- | --- | --- | --- | --- | --- | --- | --- | --- | --- | --- | --- |
| | | | Unit | Price | Price per sq.ft. | sq.ft. | BR/BA | Maint. | List Date | Image | Floor Plan | More... |
| | | 6.7% | 3407 | $1,595,000 | $757 | 2106 | 2/3/0 | $1,330 | 08/04/2012 | | Floor Plan | Details |

Price reduction within the last 60 days.


Price increase within the last 60 days


Just listed condos


Foreclosure


Shortsale

Sales Data as of
Trump Tower II Floor Plans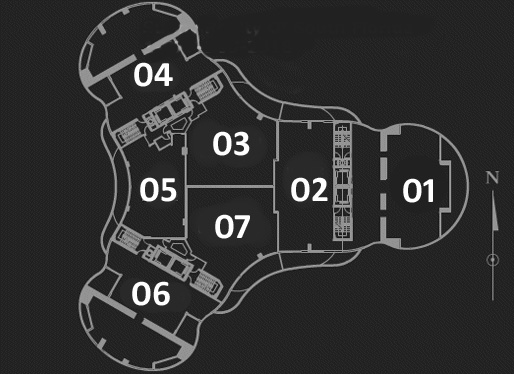 | | | | | | |
| --- | --- | --- | --- | --- | --- |
| Model | Apt No. | Beds/Baths | SqFt | # Of Units Available for sale | Floor Plans |
| 01 | 01 (Floor 6-43) | 0/0/0 | | 0 | Download |
| 02 | 02 (Floor 5) | 0/0/0 | | 0 | Download |
| 02 | 02 (Floor 6-43) | 0/0/0 | | 0 | Download |
| 03 | 03 (Floor 5-43) | 0/0/0 | | 0 | Download |
| 04 | 04 (Floor 5-43) | 0/0/0 | | 0 | Download |
| 05 | 05 (Floor 5-43) | 0/0/0 | | 0 | Download |
| 06 | 06 (Floor 5-43) | 0/0/0 | | 0 | Download |
| 07 | 07 (Floor 5-43) | 2/3/0 | 2106 | 1 | Download |
Trump Tower II Statistics
Total units in the building:
271
Total units for sale (click to view):
1
Units Currently Available for Sale at Trump Tower II
Average price per square foot:
$757.36
Sold Unit Statistics
Average price per square foot:
$499
Number of condos sold in 2012:
10
Number of condos sold in 2013 to date:
2
Average price per square foot in 2012:
$557
Average price per square foot in 2013 to date:
$593
Trump Tower II- List of All Sold Apartments
| | | | | | | |
| --- | --- | --- | --- | --- | --- | --- |
| Unit # | List Price | Sold Price | Sold $ / s.f. | Bed/Bath | Sq. Footage | Closed Date |
| 4004 | $1,649,000 | $1,560,000 | $610 | 3/3/1 | 2558 | 02/22/2013 |
| 3406 | $1,749,000 | $1,475,000 | $577 | 3/3/1 | 2558 | 02/15/2013 |
| 2803 | $1,240,000 | $1,150,000 | $586 | 3/3/0 | 1962 | 10/23/2012 |
| 3006 | $1,099,000 | $1,600,000 | $625 | 3/3/1 | 2558 | 09/26/2012 |
| 3006 | $1,697,000 | $1,300,000 | $508 | 3/3/1 | 2558 | 09/24/2012 |
| 802 | $1,080,000 | $1,045,000 | $528 | 3/3/1 | 1979 | 05/23/2012 |
| 1101 | $1,999,995 | $1,890,000 | $645 | 3/3/1 | 2928 | 05/18/2012 |
| 2306 | $1,319,000 | $1,300,000 | $508 | 3/3/1 | 2558 | 05/07/2012 |
| 706 | $1,155,000 | $1,115,000 | $515 | 3/3/1 | 2167 | 03/13/2012 |
| 3709A | $828,900 | $816,000 | $616 | 2/2/0 | 1324 | 02/07/2012 |
| 3302 | $565,000 | $535,000 | - | 1/1/1 | - | 01/31/2012 |
| 704 | $850,000 | $796,000 | $484 | 2/3/1 | 1643 | 01/24/2012 |
| 4505 | $800,000 | $800,000 | $507 | 2/2/0 | 1577 | 12/30/2011 |
| 1805 | $725,000 | $685,000 | $477 | 2/2/0 | 1435 | 12/30/2011 |
| 2906 | $1,349,000 | $1,200,000 | $468 | 3/3/1 | 2563 | 12/30/2011 |
| 3408 | $950,000 | $890,000 | $567 | 2/2/1 | 1570 | 12/14/2011 |
| 602 | $749,000 | $725,000 | $484 | 2/2/1 | 1499 | 12/12/2011 |
| SPA301 | $829,000 | $780,000 | $473 | 2/2/1 | 1649 | 11/30/2011 |
| 4007 | $762,000 | $750,000 | $476 | 2/2/0 | 1577 | 11/30/2011 |
| 4405 | $769,900 | $750,000 | $476 | 2/2/0 | 1577 | 11/22/2011 |
| 2006 | $1,250,000 | $1,080,000 | $421 | 3/3/1 | 2563 | 11/15/2011 |
| 3103 | $990,000 | $850,000 | $433 | 3/3/0 | 1962 | 11/11/2011 |
| 3706 | $1,299,000 | $1,270,000 | $496 | 3/3/1 | 2558 | 11/07/2011 |
| 1608 | $499,000 | $480,000 | $525 | 1/1/1 | 914 | 11/04/2011 |
| 3809 | $960,000 | $950,000 | $552 | 2/2/1 | 1722 | 10/31/2011 |
| 3206 | $1,340,000 | $1,200,000 | $516 | 3/3/1 | 2327 | 09/30/2011 |
| 607 | $855,000 | $825,000 | $392 | 3/3/0 | 2106 | 09/15/2011 |
| 1507 | $745,000 | $700,000 | $486 | 2/3/0 | 1439 | 08/31/2011 |
| 3501 | $829,000 | $750,000 | $455 | 2/2/1 | 1649 | 08/18/2011 |
| 807 | $840,000 | $777,500 | $369 | 3/3/0 | 2106 | 08/16/2011 |
| 4204 | $1,229,000 | $1,100,000 | $506 | 3/3/1 | 2174 | 07/27/2011 |
| 4608 | $925,000 | $862,000 | $539 | 2/3/1 | 1600 | 05/25/2011 |
| 3903 | $899,000 | $830,000 | $423 | 3/3/0 | 1962 | 05/23/2011 |
| 5004 | $1,250,000 | $1,050,000 | $491 | 3/3/1 | 2137 | 05/19/2011 |
| 1807 | $745,000 | $700,000 | $488 | 2/3/0 | 1434 | 05/03/2011 |
| 1005 | $589,900 | $545,000 | $379 | 2/2/0 | 1438 | 04/21/2011 |
| 1802 | $747,000 | $747,000 | $498 | 2/2/1 | 1499 | 02/11/2011 |
| 1601A | $582,000 | $550,000 | $428 | 2/2/0 | 1286 | 02/07/2011 |
| 1602 | $745,000 | $725,000 | $482 | 2/2/1 | 1503 | 01/26/2011 |
| 4007 | $670,000 | $665,000 | $422 | 2/2/0 | 1577 | 01/18/2011 |
| PH5101 | $1,899,000 | $1,600,000 | $531 | 3/3/1 | 3016 | 01/18/2011 |

Condos in All Areas
| | | | | | | | | | | | | |
| --- | --- | --- | --- | --- | --- | --- | --- | --- | --- | --- | --- | --- |
| SiteMap | | | Contact us | | | Privacy | | Disclaimer | | | | Copyright © 2013 CondoIdeas.com |